We have something rather wonderful to announce! Last week, LemonTop Creative won the SIBA ( Society of Independent Brewers ) Supplier Associate of the Year Award 2018 at The national SIBA Business Awards, proudly hosted at BeerX UK in Liverpool. These national awards recognise excellence in the brewing industry, from pump clip, can and bottle design, to efforts taken by brewers to make their business more eco-friendly, or to support their local community.
This member-voted accolade won by LemonTop Creative is one of the highest honours from SIBA, as each of our clients has had an important hand in our success from the very start, inspiring us to set the gold standard for design services in this highly competitive industry.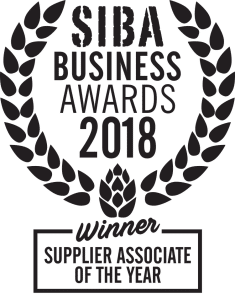 The award was received by director Andy Mogg, on behalf of the whole LemonTop team. Meanwhile back at our office in Darlington the remaining team celebrated their success and were proud to represent the North East in this National event.
The award will ultimately act as a loudspeaker for those voices within the brewing industry; our clients. It's fantastic to know that they can see we're going the extra mile for them. Rest assured that we will continue to do so with our unmatched enthusiasm. The award is made all the more special by hearing what some of our clients and SIBA associates had to say about us…
"LemonTop Creative are worthy winners of this member voted award and I'd like to congratulate them on cementing themselves as one of the best-loved designers amongst brewers in the UK. Andy and the team's enthusiasm, professionalism and talent is clear to see and has clearly been a hit with SIBA Member breweries."
Neil Walker
PR & Marketing Manager, SIBA
"LemonTop's creativity and knowledge of the brewing industry is what makes them so special and enables businesses like ours to stand out from the crowd. Andy Mogg, a Director at LemonTop, has been involved in the brewing industry since 2008 when he started a beer blog. This has helped him and the LemonTop team, see the industry not only as beer drinkers but also as part of the processes, trials and tribulations for those involved in the industry whether they are brewers, publicans or suppliers. We believe this shows a real passion and it something that we, as a client, are proud to be part of. It is this passion that has given us the confidence to hand over projects to LemonTop while we do what we do best, brewing our beer"
Cheryl Ford, Director, Quantock Brewery
These comments, which are typical of the praise brewers gave:
"LemonTop Creative were the clear winners in this Member Voted category, with brewers who have worked with LemonTop full of praise for the work they do.
"The guys at LemonTop are, first and foremost beer fans and great supporters of the industry. Friendly, easy to work with and quick to respond to queries, the work LemonTop create, from labels to websites and everything in between, is top class!".
To date, we work with over 150 breweries, but we make it our mission to make them each feel like our most important client. It's been a fantastic week and, were already looking to expand the LemonTop Team.
We can see that they are already committed, like us, to providing this stellar service to our fellow SIBA members, whom we look forward to helping grow alongside us.