...AND WHY YOUR COMPANY NEEDS ONE!
Mascot design for a company is a premium bespoke character – unique to your brand,  that tells the world what your organisation stands for while capturing the hearts and imaginations of your audience.
A company mascot is a proven method to increase brand awareness and interaction with your customers and many companies use their mascots to great effect – Tony The Tiger, Ronald Mcdonald, The Energizer Bunny, The Jolly Green Giant, Michelin Man. The list goes on and on…
A company mascot design is perfect for a whole range of applications, for example:
Advertisements


Presentations


Merchandise
Social Media


Educational Videos


Explainer Videos
5 STEPS TO CREATING
A COMPANY MASCOT DESIGN
A lot goes into creating a company mascot, from intial sketches, design tweaks and colouring that's why we've broken the process down into 5 easy to follow steps.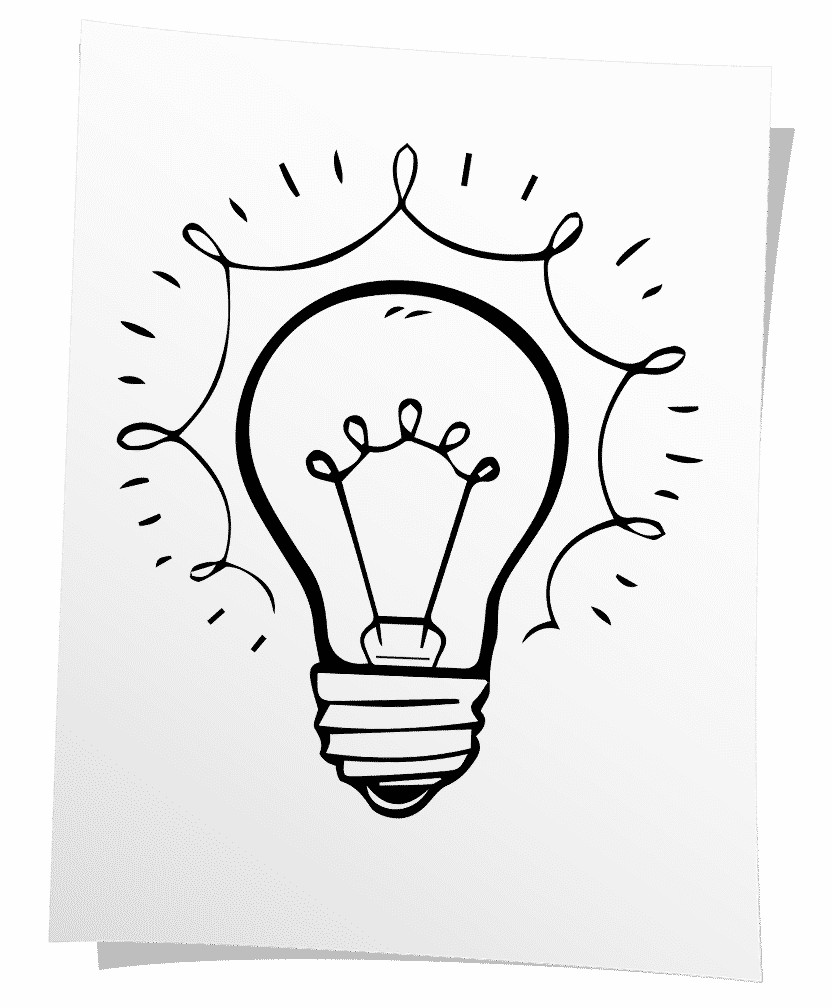 Your mascot design will be a stunning and unique character, created for you by one of our professional illustrators, to breathe new life into your brand.
This character might represent a product, service, or even a concept, such as healthy eating. But before we start creating, we need to know how to sum this concept up in a character that will perfectly convey your message to the world.
So, before we begin, let's think about what will appeal to your unique audience.

We sketch up four concepts. Count 'em, four! Each of these sketches will interpret the character you dreamt up in a slightly different way, but they'll all be bursting off the page with creativity.
We can turn our hand to any style, so get ready to see some real variety….you'll be spoilt for choice!
Perhaps you'd like the head from sketch 3 but the body from sketch 2? No problem. You're in charge; this is the time to really explore the creative possibilities of your mascot!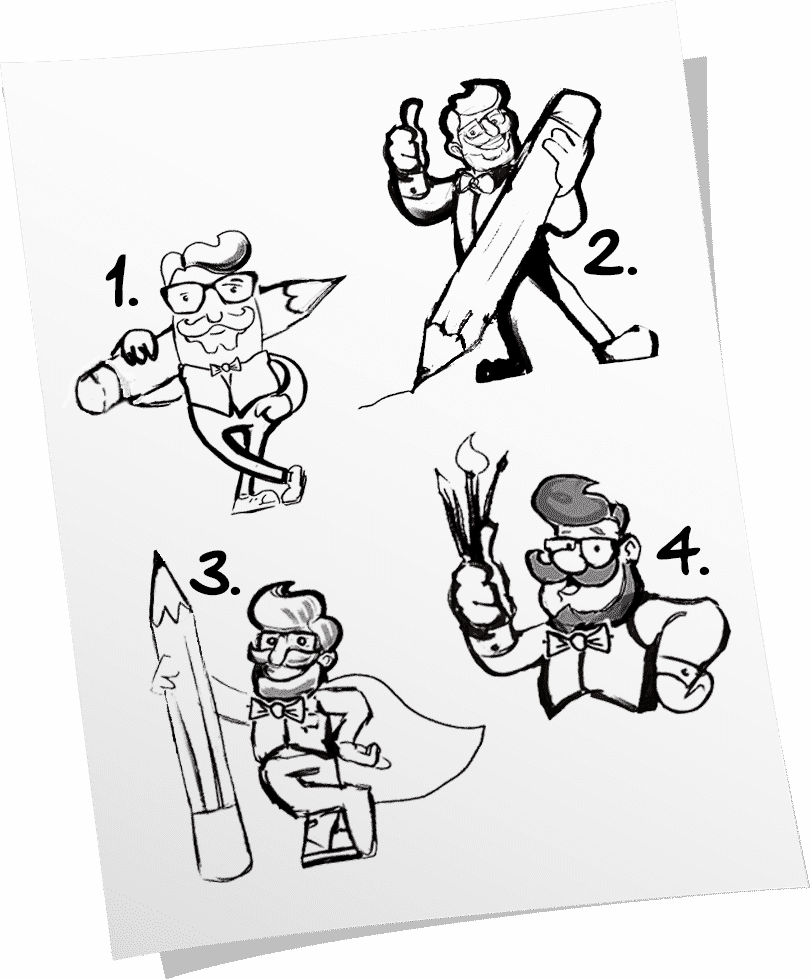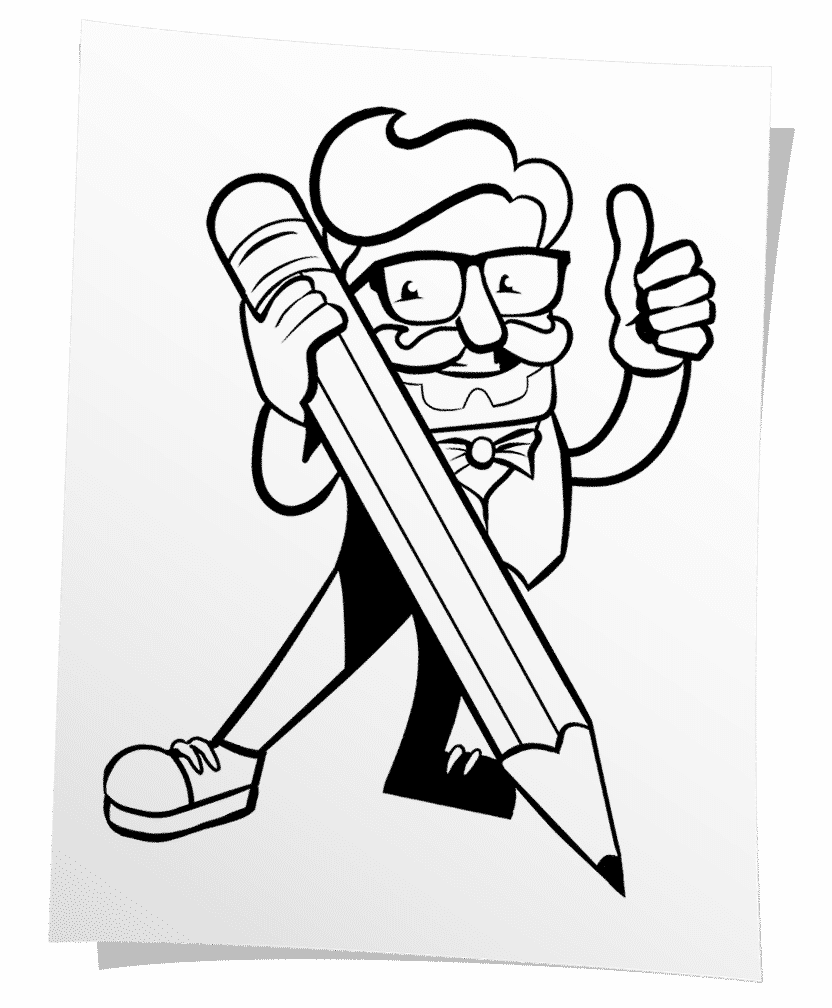 Once you've chosen your sketch we'll redraw it, this time on one of our industry standard drawing tablets, to create perfect vector linework – vector is a fancy word for a type of drawing that can be scaled to any size, from business card to billboard, with no loss in quality!


Now that we've created perfect vector linework for your mascot design, we can begin to add colour and shading. You can incorporate your existing brand colours, or you might like to see some suggestions – we'll be happy to advise!.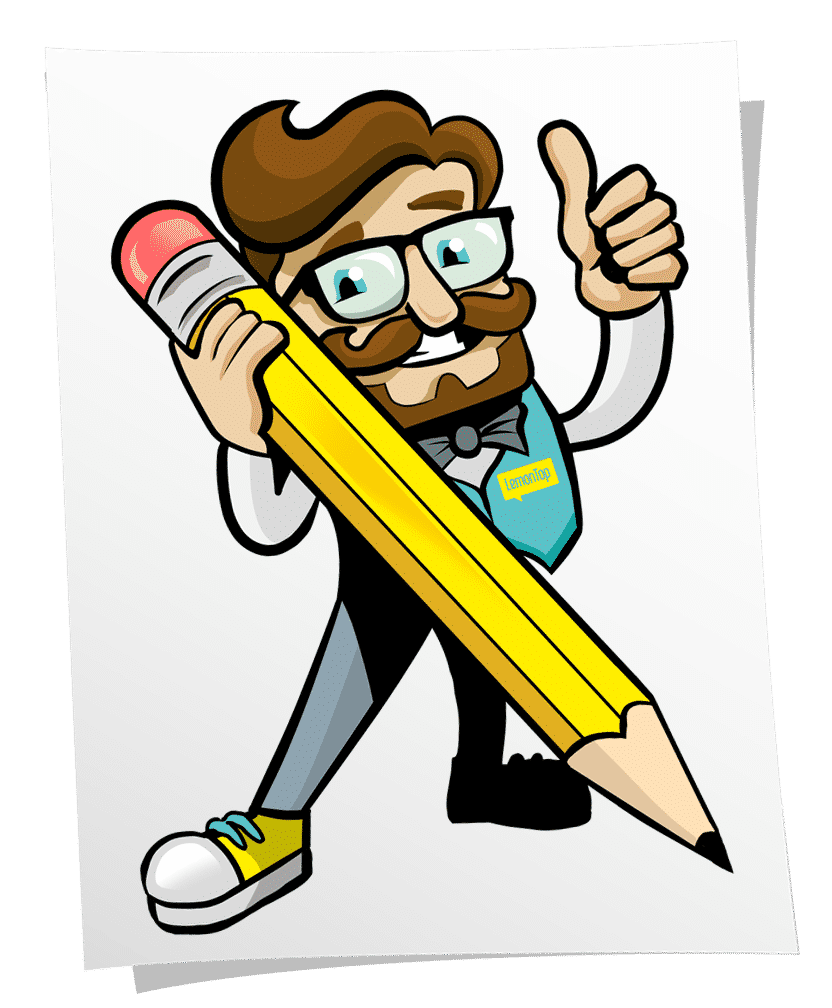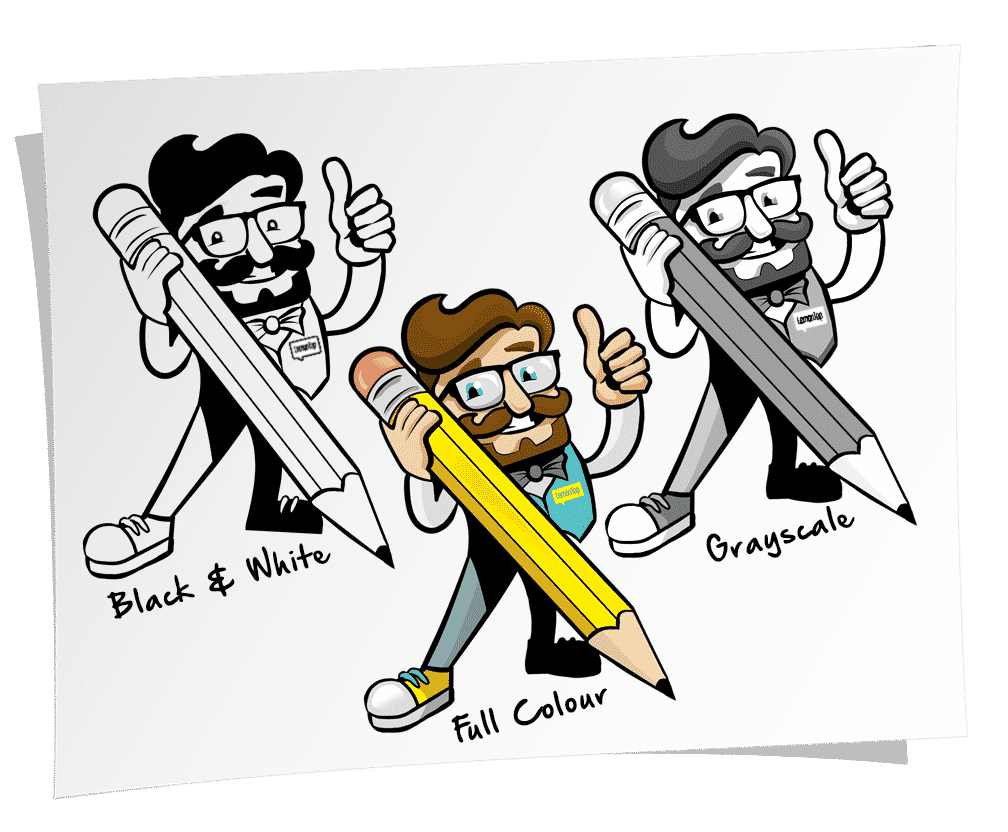 For some of you, the finished files of your incredible new mascot will be all you need.
You'll get a full-colour, black and white, and grayscale version of your mascot design, in all the file types you'll need!
(.jpeg .png .ai .eps .pdf)
But wait, your journey doesn't have to end there, now that you have your new mascot design, you may want to see them in a range of different poses, add accesories or outfit, simply let us know and we'll be happy to continue working with you and your brand new company mascot!

We love working closely with you, our client to bring your ideas to life! Whether that's a disco dancing mango, a bulldog that teaches english or a chocolate and fudge detective duo, we can do it all.
If you've got an idea for a fantastic mascot design, get in touch today!
Supplied File Types (.png .jpeg .ai .eps .pdf)
POPULAR QUESTIONS & ANSWERS
Simply put, as much or as little as you want.
To start, we will have a conversation with you about your desired company mascot and what that might look like – style, pose, colours etc. This gives us a great starting point!
We will then be in touch at every stage from intial sketches through to the final design.
Some of our clients like to be heavily involved and direct the process, whilst others prefer to take a back seat and let us surprise them!
This is your vision, and we will do everything possible to make it a reality!
We understand that you want your company  to be perfect – and so do we. Thats why we're happy to listen to your feedback at every step of the way.
If you wish to change your mascot completley then this is a conversation we can have. However, we do ask that you have a solid idea to begin with and of course we will help you fine tune this too.
Absolutely!
We can discuss this with you in our initial conversations, or alternativley if you can't make your mind up just yet, we will work on your chosen pose and then have a conversation at the end of the process about creating multiple poses of your mascot.
100%
This is your company mascot to use in whatever way you see fit.
Need it now? Let's go!
If time is a priority, we offer an expedited delivery service with a fast turnaround time – perfect for those last minute deadlines.
Yes we do and it's fantastic!

Have a chat with our creative team about exactly what we can offer.
LET'S BRING YOUR BUSINESS TO LIFE
If you've got an idea in mind, then we'd love to hear from you. We're poised, pencils at the ready to bring your new company mascot to life!
Simply fill out the form below and one of our talented designers will be in touch. Alternatively, give us a call on: