How is Augmented reality transforming the drinks industry? We take a look at how augmented reality is transforming industries and how we have adapted by embracing this technology providing a greater interactive experience for our customers.
The Augmented Reality market has grown vastly in recent years, with predictions estimating its value could reach £46.8 Billion by 2023. AR has been adapted into almost every field including healthcare, defence, gaming entertainment, retail, digital marketing, education, and engineering.

When we narrow it down to Augmented Reality within the retail sector, Wikitude approximates that 32% of shoppers regularly use augmented reality and 73% of smartphone AR users are happy with their experiences with it. Augmented Reality statistics prove how the market has adopted the technology and is growing exponentially.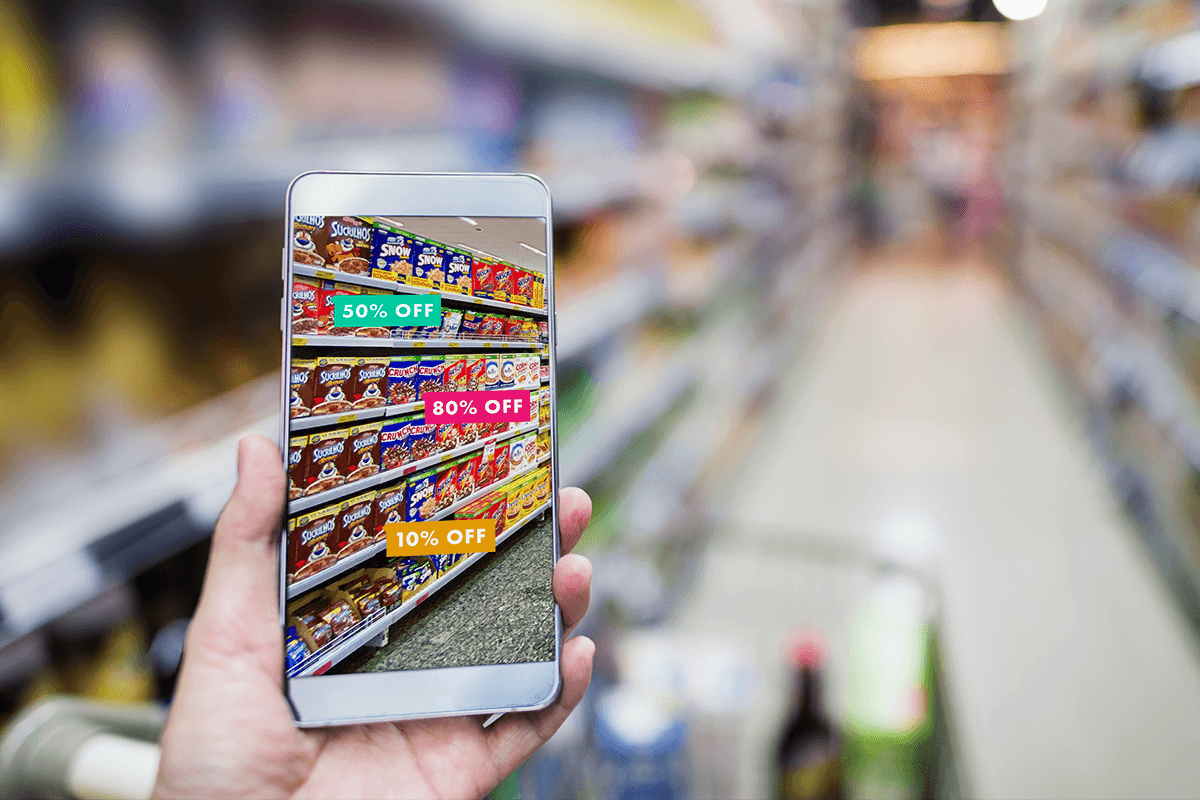 I think that a significant portion of the population of developed countries, eventually all countries will have AR experiences everyday like eating three meals a day. It will become that much a part of you.

Tim Cook – Apple CEO
Ease of trying products with Virtual Mirrors
Waiting for your turn in a fitting room can be highly boring and highly time-consuming. This can be negated by using virtual mirrors where you can find out which item of clothing best fits you and in the digital screen, you can see how that item of clothing looks on you.
Virtual Mirrors have even been adapted for use in the cosmetic retail sector too. Virtual mirrors can analyse your face and recommend and apply make-up that can best suit your face without having to try them out first.

Increasing brand presence and awareness
AR is a great tool to enhance a company's brand awareness to larger audiences. Mobile apps with AR functionality provide a unique brand experience to their users. The use of AR for retail marketing gives a lot of leverage for brands to find ingenious ways for interactions, creating a tunnel for instant feedback.
Improves the shopping experience
Whether you're shopping online or in a store, retailers should provide the most interactive and visual means so that you have a positive experience while shopping and prefer to visit the store repeatedly. Advanced in-store experiences with digital and visual mirrors are an important addition that is improving with time.
Brands that are innovating with AR
IKEA
When shopping for furniture and fittings, IKEA is probably the most synonymous name in the retail industry. They have adapted AR technology in such a way that it helps its users place items within their own homes, without having to imagine how the item looks or even having to go to the store and inspect the item in person. This is an ingenious way to save time and energy, and is amazing for the environment too.
Vespa
With the Vespa app, you can just hover your phone over the magazine in which the Vespa advert is shown and a scooter will be presented to you. You can customise your scooter in any way you see fit right there on the magazine.
Topshop
The clothing retailer Topshop has a great way to show off the advantages of AR within retail. The company has set up virtual mirrors which allow customers to see themselves on the screen. This allows users to try on clothing without having to even visit the fitting room.

We are embracing AR and creating a more interactive experience for our customers.
We have always been a company that embraces new technology. In fact, it is one of our core values which meant we couldn't resist AR. The real benefit of AR over VR certainly from a customer's point of view is their investment is practically zero, as most people these days have a smartphone or tablet. Android and iOS both have built-in technology to have you experience AR in a few clicks.
Our latest brochure is full of products to view using AR to make it both a tactile and virtual brochure, giving a truly interactive experience. Newly designed products can now be approved by our customers with full 360 degrees of interaction. You can place the product on the desk in front of you, have one 20 feet tall, and take photographs of them in real-world places such as offices, parks, and supermarket shelves, wherever you take your phone.
As well as benefiting LemonTop as a business, our customers also have products they wish to show to potential and existing clients around the world. The cost of shipping, especially in small quantities can be expensive and time-consuming, so this is where AR can help. AR allows prototype products to be created and accessed anywhere in the world as soon it is ready, with no shipping needed.
If you would like to know more about how AR can benefit you and your business we would be happy to discuss this with you.
What is the future of AR in retail?
Augmented Reality is often seen as a far-off futuristic technology and a thing of science fiction but that's not true. AR has already made its way into almost all sectors of the retail industry. We're not too far from a time when you can be sitting in the comfort of your sofa or drinking your coffee in the kitchen, wearing your AR-enabled glasses and experiencing all manner of AR experiences from buying your groceries and checking their ingredients to seeing how your new coffee table might fit with the rest of your furniture without having to step out of the comfort of your home.
The challenges with Augmented Reality E-Commerce will also be worked upon. To reach a wider range of customers it will need to be able to retain its existing users. As the technology is worked upon and devices become more affordable and readably available, Augmented Reality E-Commerce will become a part of our everyday lives just as going to the shops and browsing products are today.